Pin It
I don't do a lot of Valentine decorating--one shelf and a wreath are pretty much it. But this year with the abundance of free printables online, I decided that I could do just one more thing. But when I started shopping around, I couldn't find just the right thing--something red, of course, but something just a little bit quirky. So after passing on some very good printables that would have been just fine, really, I decided to make my own. I won't mention the amount of time it took to come up with this silly phrase, I will just say that my time would have been better spent polishing off one of my myriad other projects. Still, I'm satisfied with the finished product--something red, and something a bit quirky.
I also made a cutting file. I really like the idea of using paper I have on hand instead of ink, so whenever I can, I convert my images to cutting files to use with my Craft Robo.
Here are just a few of the others available online:
http://www.theidearoom.net/2012/01/valentines-day-printable.html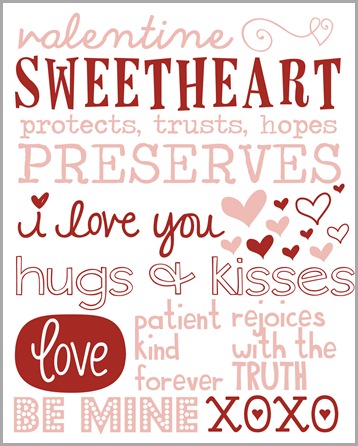 http://www.elislids.com/free-valentines-day-printables/
This one's extra special, because the it can be used for different purposes. Go to the original blog to see how.
~Sister #2